Nammex Cordyceps Cs-4 is a pure mycelium product that is produced in liquid culture. The mycelium is separated from the liquid and dried to a powder.
| | |
| --- | --- |
| Beta (1-3),(1-6)-glucans | Greater than 7% |
| Starch | Less than 2.0% |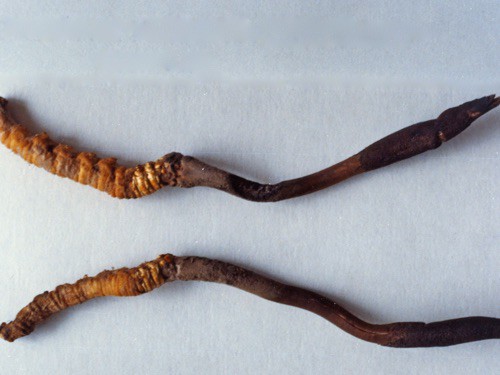 Nammex Cordyceps Cs-4 is 100% Pure Mycelium
No added fillers, starch or grains
Wild Ophiocordyceps sinensis is a rare and expensive Chinese herb. It consists of a caterpillar and a blade-like mushroom body growing from one end. Its common Chinese name is "Winter worm, summer grass". Due to the high cost of this herb, the Chinese developed the mycelium of this mushroom and now grow it in liquid fermentation tanks. This pure mycelium product is known as Cs-4.
A large body of research has demonstrated that Cs-4 has a similar profile of active compounds and activities as wild Cordyceps. It is traditionally used for fatigue, general weakness, improved respiratory function and improved sexual function. It is currently used in many athletic performance products.
Cordyceps Cs-4 is manufactured by one of the original research groups that isolated and produced Cordyceps in liquid culture. Years of compositional analysis as well as clinical trials demonstrated that Cs-4 acted in a manner consistent with the wildcrafted Cordyceps. Today it is produced in large fermentation tanks in a high quality manufacturing facility. Learn more about our growers in China.
Not All Medicinal Mushrooms Products are Created Equal
US lab-grown Cordyceps is mycelium grown on grain. Analysis has shown that US Cordyceps mycelium on grain has low levels of beta-glucan and very high levels of starch. Nammex Cordyceps is 100% pure mycelium grown in a liquid culture instead of on grain. Learn more about the mycelia myth and the 10 Questions to Ask about Your Mushroom Supplement.
Paterson, R., Cordyceps – A traditional Chinese medicine and another fungal therapeutic biofactory? Phytochemistry 69 (2008) 1469–1495
Halpern G. et al., The Scientific Rediscovery of an ancient Chinese Herbal Medicine: Cordyceps sinensis, parts 1+2. Journal of Alternative and Complementary Medicine, Vol. 4, No. 3, 1998.
Yang Q.Y. et al., Discussion of Quality Control Standard for Fermentative Products of Aweto. Chinese Journal of Grassland, Vol. 32, Supp., 2010.