RealShiitake™ – Shiitake Mushroom Extract
Nammex organic Shiitake mushrooms are processed by hot water extraction into a fine powder suitable for encapsulation or beverages.
| | |
| --- | --- |
| Beta (1-3),(1-6)-glucans | Greater than 30% |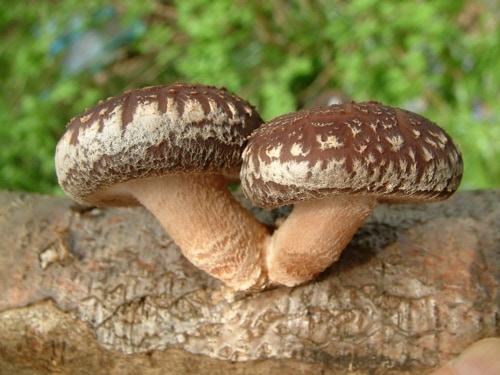 Nammex Shiitake is 100% Pure Mushroom
No added fillers, starch, grains or mycelium
Shiitake Mushroom History
In the 12th century, shiitake mushroom cultivation began in the mountains of central China. Using fallen trees and then wood logs, early cultivators were able to plant spores and help nature produce a larger crop. A fragrant and delicious edible mushroom, shiitake is now the second most popular cultivated mushroom in the world.
In the 1970's, the Japanese mushroom industry supported extensive research into the nutritional and beneficial properties of shiitake. The scientist Goro Chihara fractionated shiitake polysaccharides and named the most active fraction lentinan, a pure beta-1-3-glucan. This compound was developed into a product that has been utilized as an adjuvent to modern medical oncological practices.
Our mushroom extracts are commonly used as nutraceuticals, dietary and nutritional supplements. They are also used as a component ingredient of nutritional supplements and vitamins. Mushroom extracts are also used in many food products including but not limited to meal replacement and energy bars, snack bars, fruit and vegetable based drinks, milk and creamer based beverages, sauces and seasonings, chocolates, teas, and coffee and coffee substitutes.
In 1996, CEO and Founder of Nammex, Jeff Chilton organized organic mushroom production in China. That initiative paid off and today all Nammex mushrooms are grown or wildcrafted deep in the mountains of China by our Certified Organic production partners.
Not All Medicinal Mushrooms Products are Created Equal
US lab-grown Shiitake is mycelium grown on grain. Analysis has shown that US Shiitake mycelium on grain has low levels of beta-glucan and very high levels of starch. Nammex only uses 100% organic fruiting bodies which are rigorously tested and guaranteed for active compounds. Learn more about the mycelia myth and the 10 Questions to Ask about Your Mushroom Supplement.
Beta (1>3),(1>6)-glucans; eritadinine
Certified Organic; Kosher; Vegan; Gluten-free; Non-GMO
Shiitake Mushroom Research
Wasser S., Shiitake. Encyclopedia of Dietary Supplements. 2005, Marcel Dekker.
Chihara, G., Medical Aspects of Lentinan Isolated from Lentinus edodes. Mushroom Biology and Mushroom Products, Proceedings of 1st International Conference, Hong Kong. 1993 Ed. S.T. Chang, J.S. Buswell, S. Chiu.
Jong S.C. et al., Medicinal and Therapeutic value of the Shiitake Mushroom. Adv. Appl. Microbiol. 1993; 39:153-84.