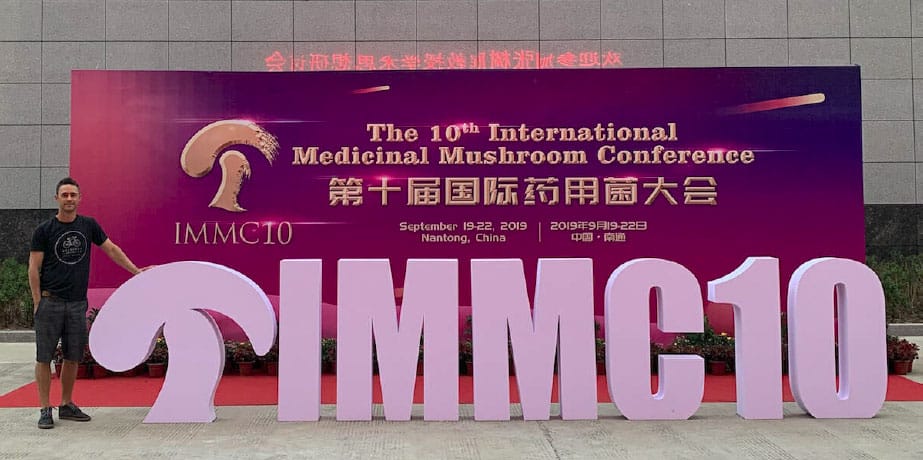 This year our annual trip to China coincided with the 10th International Medicinal Mushroom Conference in Nantong, China. This event is held every 2 years in a different country and brings together mushroom scientists and researchers from around the world. Over 1000 scientists, researchers and industry professionals submitted papers and 150 were selected for presentations. Jeff Chilton submitted his current research on medicinal mushroom product quality and was accepted for an oral presentation. Here are a few of the highlights.

First, the Conference was preceded by a 1 day seminar with Professor Shu-Ting Chang, who is regarded as the godfather of medicinal mushrooms. He has spent well over 60 years promoting the cultivation of mushrooms as food and medicine. Professor Chang has over 220 published scientific papers and authored 23 books. He is also one the initiators and editors at the International Journal of Medicinal Mushrooms. In 2015, Dr. Chang quoted Jeff's White Paper, Redefining Medicinal Mushrooms, in his keynote address to the Reishi Mushroom Association in China conference. Dr. Chang is currently 92 but still remains in good health and always has a smile on his face.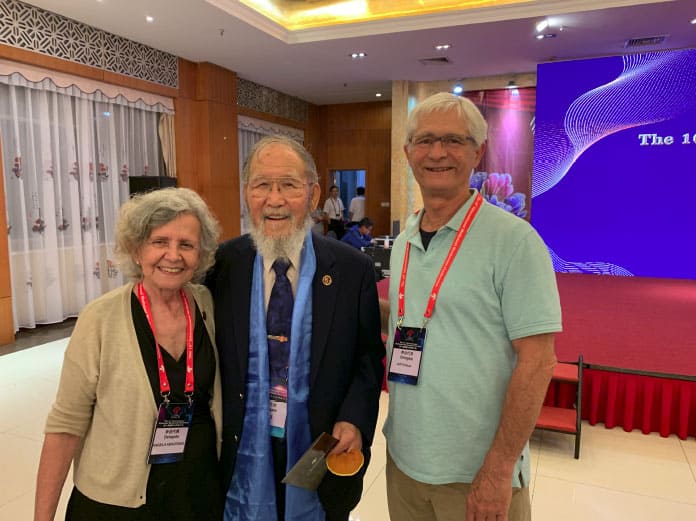 Mushroom Product Quality is Still a Major Issue
Professor Soloman Wasser's Keynote opening presentation discussed the quality controls necessary for medicinal mushroom dietary supplements, based on S.T. Chang's 5 G's:
GLP – Good Laboratory Practices
GAP – Good Agriculture Practices
GMP – Good Manufacturing Practices
GPP – Good Production Practices
GCP – Good Clinical Practices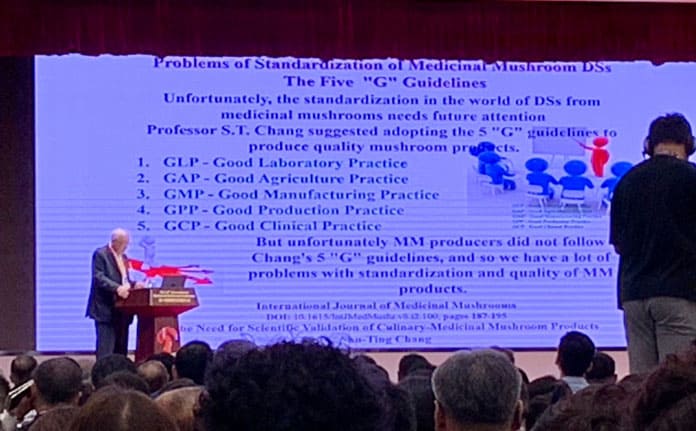 Nammex strictly follows these guidelines: growing mushrooms naturally using organic practices, processing the mushrooms following cGMP standards, QC testing in qualified laboratories, yearly audits of farm and factory, and final packaging by NSF certified contract manufacturers.
Dr. Lindequist References USP Reishi Report
Professor Ulrike Lindequist from Germany, a pharmacologist and specialist in biologically active compounds from mushrooms, plants and marine microorganisms, also discussed quality control. Her list of important Quality Control issues coincides with the Nammex industry changing White Paper, Redefining Medicinal Mushrooms, published in 2015, and the Nammex Testing Protocol. She also made note of the USP study of reishi products.
Use of validated analytical methods for testing
The need for suitable reference compounds and standards
Voucher specimens for reference materials
Proper taxonomical identification of species
Proper identification of the fungal stage: mushroom, mycelium, spore
Identification of substrate residues (ie. grains)
Proper testing for pesticides, heavy metals, microbiological contamination and adulterants like starch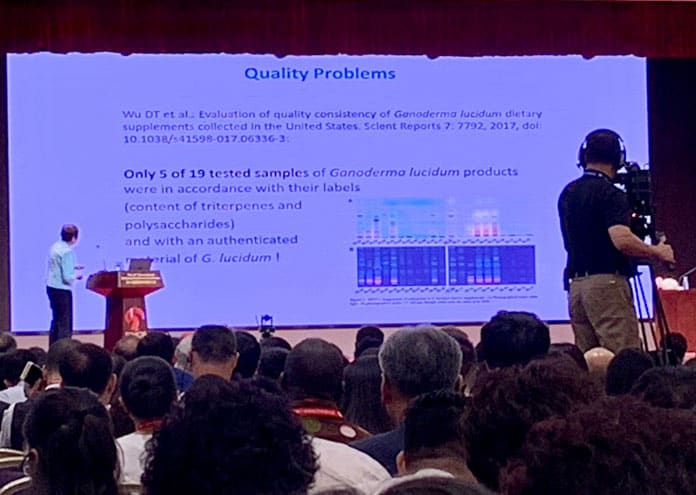 Jeff Chilton Presents Nammex Testing Protocol
Jeff Chilton gave a presentation on quality control for medicinal mushroom products, which was very well received. He outlined information published in the Nammex 2015 white paper and added new data on the use of ergosterol and ergothioneine as markers. All Nammex products are tested for these three most important active compounds: beta-glucans, ergosterol, and ergothioneine. A full video of the presentation will be released soon which we will embed here once it goes live.
Jeff also presented a paper that detailed the Megazyme beta-glucan test method, in place of Dr. Barry McCleary, CEO of Megazyme, who was unable to attend. The Megazyme test has become the de-facto standard for medicinal mushroom quality.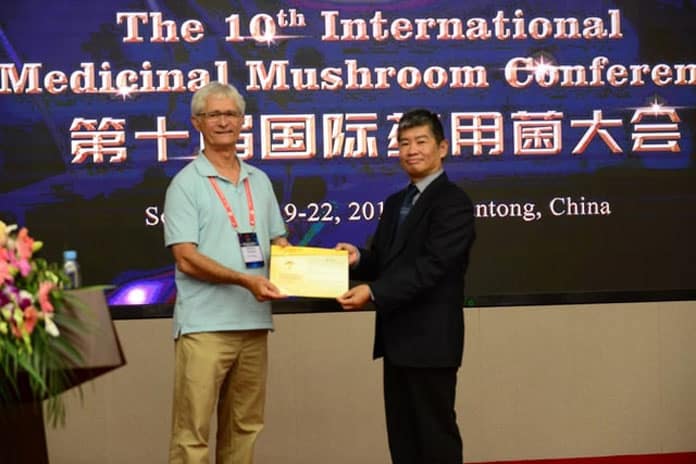 Reishi Research in China
Professor Jingsong Zhang, Vice Chairman of the Chinese Society of Mycology, had an interesting talk on the level of research and production of reishi in China. He highlighted how much knowledge and understanding of mushrooms is still retained within China and the need for more collaboration with Western researchers.
Over 82% of reishi research is published in Chinese.
Four times more reishi research is published in Chinese than English, although English publications are now increasing at a faster rate. Could this be due to the increased awareness of medicinal mushrooms in North America?
There are 10,000 patents on reishi in China.
China grows over 200 million pounds of reishi per year (wow!)
Different strains of reishi are used for different purposes: spore production, polysaccharides, triterpenoid value
Mushroom Cultivation Progress
Cordyceps
Exciting new information and photos showed the cultivation of 91 different species of cordyceps. This opens up a whole new area of future research on possible new and unique medicinal compounds.
Not only that, but a new method for cultivating Ophiocordyceps sinensis was presented. This incredible break-through uses ghost moth larvae to mimic natural growing conditions. To date, the company who developed this technique has produced 10 tons of dried cordyceps and they are chemically consistent with the wildcrafted caterpillar fungus.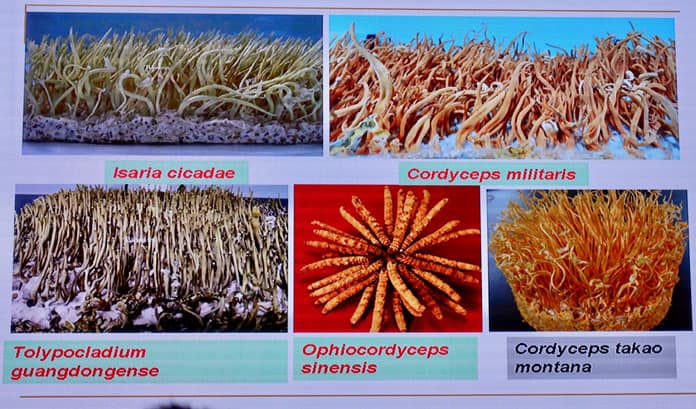 Morels
The Chinese have been working for the last 50 years on large scale cultivation of morels. While there are records showing cultivation as early as the 1880's in France, no one has been able to do it on a large commercial scale. Until now. China has gone from 3 tons of dried morels in 2012 to now over 800 tons last year. An increase of 26000% in 6 years!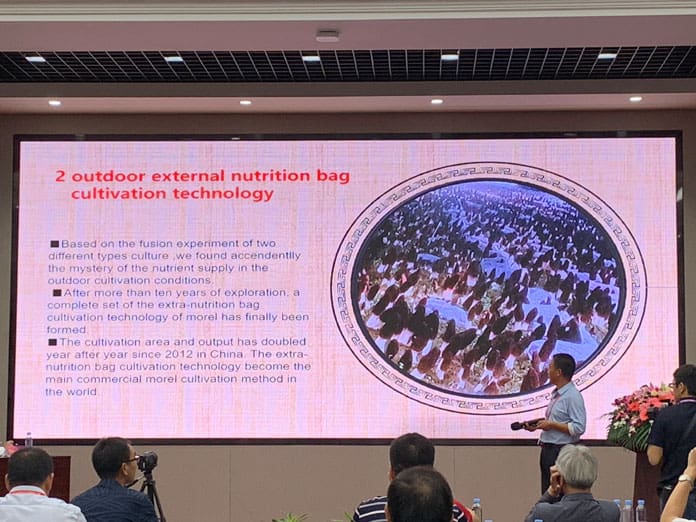 Cauliflower Mushroom
We've heard rumours about this for a few years, finally we see a presentation of the cauliflower mushroom cultivation. They grow it in bottle culture with a plastic skirt to make the mushroom grow straight up, the same method used to grow the enoki mushroom. Hopefully in the future, production will increase and at some point we will be able to obtain organic sources for extraction as there is some interesting research on sparassis crispa. Not only that, it is a delicious edible!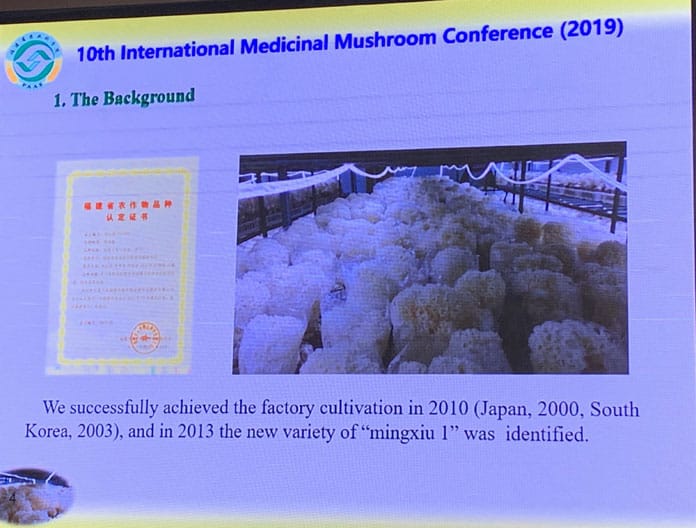 Chaga
In 2016 at ISMS in Amsterdam, we learned that the Finnish government was funding the development of chaga cultivation in their vast hectares of birch forests. Currently, anywhere from 6-30% of birch forests in Finland and Sweden are inflected with Chaga.
In Nantong, we met Eric and Otso of Kaapa Health. They work directly with forest owners in Finland to inoculate their birch forests with chaga. This creates a higher dollar value yield per acre than conventional birch timber, which is harvested for standard uses. The forest owners manage the forests and Kaapa purchases the harvested, dried chaga from them. Kaapa currently has over 100 hectares inoculated and expects to harvest over 100 tons of chaga by 2023.
Reishi Spores
At Nammex, we have strong reservations about the benefits of reishi spores, yet in China they are currently more popular than the mushroom itself. We've found most of the claims made for reishi spores to be unfounded and the scientific research to be unconvincing.
Some companies claim that 1kg of spores comes from 1 ton of reishi mushrooms, trying to make spores seem rare. But China is now producing a spore yield of well over 100% of the mushroom's weight and newly developed reishi strains can produce higher amounts of spores, in one instance a 276% yield increase. We have personally visited many farms that collect spores and have measured 400 grams of spores from one mushroom! A single mushroom weighs only 80 grams. It was noted that reishi spore farmers earn 20% more than other agricultural industries (35k-56k USD per year).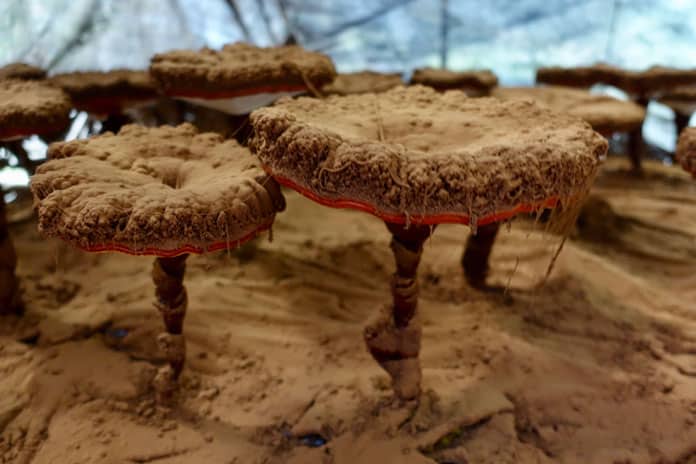 Mushrooms as Food Additives
Professor Miomir Niksic from Serbia showcased the use of mushrooms in different food and beverage products. Professor Niksic works at the University of Belgrade in their Institute of Food Technology.
Nammex has more and more customers producing food products with our mushroom extracts. We consider this an easy way for consumers to increase their mushroom intake and gain the benefits. Here are a few examples of the innovative way that Professor Niksic has used mushrooms in food products:
Add to yogurt to increase antioxidant activity
Add to pasta to increase antioxidant activity and decease glycemic response
Add to sausage, tuna, tomato paste, chicken pate, chicken soup, cream cheese to improve shelf life by inhibiting bacteria growth
Add reishi to beer to influence bitterness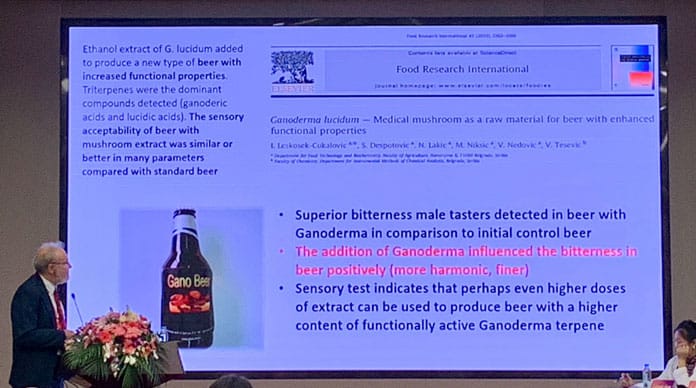 Summary
One of the things we love about coming to China is eating so many mushrooms. All meals contain some mushroom dish whether it be a standalone dish like cold marinated wood ear, a stir fry, or any number of unique mushroom containing dish. On this trip we ate the following mushrooms: oyster, lions mane, reishi (in soup), king oyster, cordyceps, tremella, enoki, white beech (shimeji), morels, pines, maitake, shiitake, white button, schizophyllum and probably others we can't name.
All in all it was a very fun conference. We learned a lot, connected with old friends, and made many new friends. We are looking forward to the next International Medicinal Mushroom Conference in Serbia 2021 and are very excited to have the next ISMS conference in Vancouver 2021.
https://www.nammex.com/wp-content/uploads/2019/11/china-report-19-immc10.jpg
460
923
Jeff Chilton
https://www.nammex.com/wp-content/uploads/2014/12/nammex_horizontal_logo493x156.jpg
Jeff Chilton
2019-11-11 22:08:32
2019-11-29 22:45:16
China Adventures 2019 – Medicinal Mushroom Conference Details