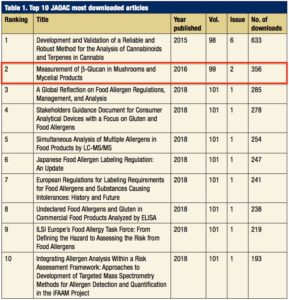 The July/August issue of Inside Laboratory Management, the Journal of AOAC International, has listed the peer reviewed article, Measurement of Beta-glucan in Mushrooms and Mycelial Products, as the second most downloaded article of 2017/2018. AOAC International is the governing body that sets the standards for analytical testing methods.
This research, carried out by Dr. Barry McCleary, one of the top experts in enzyme technologies, utilizes the Megazyme beta-glucan test to analyze products containing various species of mushroom and mycelium that are noted for their medicinal value.
Inside Laboratory Management noted the following about Dr. McCleary's paper:
Along the same lines, in second position, an article focuses on a robust and reliable method developed for the measurement of β-glucan in mushroom and mycelial products. The medicinal properties of many species of mushroom have been valued and used in traditional Chinese medicine for centuries.

Driving interest in this second article are concerns within the regulatory community regarding health claims relating to nutritional supplements as well as the identity and purity of these products, and this relates particularly to medicinal mushrooms where the key active components have been identified as 1,3:1,6-β-glucan, triterpenoids, and ergosterol.
The results of McCleary's research confirmed the analytical work published in the Nammex White Paper, Redefining Medicinal Mushrooms, and validated the Megazyme test as the most accurate test for (1-3)(1-6)-beta-glucan in mushrooms and yeast.
The beauty of the Megazyme beta-glucan test is that it also measures alpha-glucans, which includes glycogen, dextran, pullulan and starch. This reveals any potential carriers like maltodextrin, dextrose or in the case of myceliated grain products, starch.
Nammex worked with Dr. McCleary and supplied verified mushroom samples for this research.
It is now clear that the Megazyme beta-glucan method is the standard test for medicinal mushroom quality control. Mushroom and mycelium ingredients that do not measure beta-glucans should be questioned for their medicinal value.
Resources
https://www.nammex.com/wp-content/uploads/2014/12/nammex_horizontal_logo493x156.jpg
0
0
Jeff Chilton
https://www.nammex.com/wp-content/uploads/2014/12/nammex_horizontal_logo493x156.jpg
Jeff Chilton
2018-08-21 15:44:19
2018-08-24 19:48:08
Journal of AOAC Notes Popularity of Beta-glucan Study